INFECTION CAUSED BY PROTOZOA GIARDIA LAMBLIA IN CHILDREN
Keywords:
Giardia lamblia, parasite, infection, children, diarrhoea
Abstract
Giardia lamblia is a protozoa that can cause parasitic infection lambliosis/giardiasis. Children are in the higher risk group to develop this infection than adults. Multiple risk factors along with socio-demographic and socio-economic structure of the population, have an important role in contributing to the occurrence of infection. Most common symptomatology is diarrhoea, but there are other signs and symptoms of infection (bloating and pain in the abdomen, allergic dermatosis, slow linear growth and psychological development) existing as clinical entities of lambliosis. Genome of the parasite is susceptible to mutations, and molecular characterisation enables detection of the subtypes of this protozoan and their connection with clinical manifestations of infection, antiparasitic resistance and zoonotic potential.
References
Adam RD. Biology of Giardia lamblia. Clinical microbiology reviews. 2001;14(3):447-475.
Carranza PG, Lujan HD. New insights regarding the biology of Giardia lamblia. Microbes and infection. 2010;12(1):71-80.
Lanata CF, Fischer-Walker CL, Olascoaga AC, Torres CX, Aryee MJ, Black RE. Global causes of diarrheal disease mortality in children <5 years of age: a systematic review. PloS one. 2013;8(9):e72788.
Cernikova L, Faso C. Five facts about Giardia lamblia. 2018;14(9):e1007250.
McArthur AG, Morrison HG, Nixon JE, Passamaneck NQ, Kim U, Hinkle G, et al. The Giardia genome project database. FEMS microbiology letters. 2000;189(2):271-273.
Anim-Baidoo I, Narh CA, Oddei D, Brown CA, Enweronu-Laryea C, Bandoh B, et al. Giardia lamblia infections in children in Ghana. The Pan African medical journal. 2016;24:217.
Kasaei R, Carmena D, Jelowdar A, Beiromvand M. Molecular genotyping of Giardia duodenalis in children from Behbahan, southwestern Iran. Parasitology research. 2018;117(5):1425-1431.
Naz A, Nawaz Z. Cross-sectional epidemiological investigations of Giardia lamblia in children in Pakistan. 2018;136(5):449-453.
Muhsen K, Cohen D, Levine MM. Can Giardia lamblia infection lower the risk of acute diarrhea among preschool children? Journal of tropical pediatrics. 2014;60(2):99-103.
Haque R, Mondal D, Karim A, Molla IH, Rahim A, Faruque AS, et al. Prospective case-control study of the association between common enteric protozoal parasites and diarrhea in Bangladesh. Clinical infectious diseases : an official publication of the Infectious Diseases Society of America. 2009;48(9):1191-1197.
Guimarães S, Sogayar MI. Occurrence of Giardia lamblia in children of municipal day-care centers from Botucatu, São Paulo State, Brazil. Revista do Instituto de Medicina Tropical de Sao Paulo. 1995;37(6):501-506.
Lehto KM, Fan YM, Oikarinen S, Nurminen N, Hallamaa L. Presence of Giardia lamblia in stools of six- to 18-month old asymptomatic Malawians is associated with children's growth failure. 2019;108(10):1833-1840.
Bartelt LA, Platts-Mills JA. Giardia: a pathogen or commensal for children in high-prevalence settings? Current opinion in infectious diseases. 2016;29(5):502-507.
Natasa M-T, Otasevic S, Tasić I. The efficiency of immunoenzyme assay in the diagnosis of lambliosis. Central European Journal of Medicine. 2010;5:464-469.
Miladinovj -Tasj N, Tasic SA, Tasi A, Zdravkovj D. Modern diagnostics of giardiasis. Acta Facultatis Medicae Naissensis. 2008;25:97-101.
Pijnacker R, Mughini-Gras L, Heusinkveld M, Roelfsema J, van Pelt W, Kortbeek T. Different risk factors for infection with Giardia lamblia assemblages A and B in children attending day-care centres. European journal of clinical microbiology & infectious diseases : official publication of the European Society of Clinical Microbiology. 2016;35(12):2005-2013.
Mero S, Kirveskari J, Antikainen J, Ursing J, Rombo L, Kofoed PE, et al. Multiplex PCR detection of Cryptosporidium sp, Giardia lamblia and Entamoeba histolytica directly from dried stool samples from Guinea-Bissauan children with diarrhoea. Infectious diseases (London, England). 2017;49(9):655-663.
Ahmad AA, El-Kady AM, Hassan TM. Genotyping of Giardia duodenalis in children in upper Egypt using assemblage- specific PCR technique. PloS one. 2020;15(10):e0240119.
Escobedo AA, Ballesteros J, González-Fraile E, Almirall P. A meta-analysis of the efficacy of albendazole compared with tinidazole as treatments for Giardia infections in children. Acta tropica. 2016;153:120-127.
Ismail MA, El-Akkad DM, Rizk EM, El-Askary HM, El-Badry AA. Molecular seasonality of Giardia lamblia in a cohort of Egyptian children: a circannual pattern. Parasitology research. 2016;115(11):4221-4227.
Viesy S, Abdi J, Haghani K, Valizadeh R, Mirzaei A. Giardia Lamblia Subtypes and Their Relationship with Clinical Symptoms in Patients with Giardiasis. Infectious disorders drug targets. 2020;20(3):396-400.
Peréz Cordón G, Cordova Paz Soldan O, Vargas Vásquez F, Velasco Soto JR, Sempere Bordes L, Sánchez Moreno M, et al. Prevalence of enteroparasites and genotyping of Giardia lamblia in Peruvian children. Parasitology research. 2008;103(2):459-465.
Zalipaeva TL. [Clinical symptoms of giardia infection in children]. Meditsinskaia parazitologiia i parazitarnye bolezni. 2002(3):29-32.
Di Prisco MC, Hagel I, Lynch NR, Jiménez JC, Rojas R, Gil M, et al. Association between giardiasis and allergy. Annals of allergy, asthma & immunology : official publication of the American College of Allergy, Asthma, & Immunology. 1998;81(3):261-265.
Mokrzycka M, Kolasa A, Kosierkiewicz A, Wiszniewska B. Inducible nitric oxide synthase in duodenum of children with Giardia lamblia infection. Folia histochemica et cytobiologica. 2010;48(2):191-196.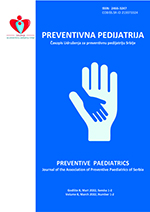 Downloads