ACUTE ACALCULOUS CHOLECYSTITIS ASSOCIATED WITH EPSTEIN-BARR VIRUS INFECTION
Keywords:
Epstein Barr virus, acalculous cholecystitis, children
Abstract
Introduction: Ebstein-Barr virus (EBV) infection is common during early childhood and mainly asymptomatic whereas infectious mononucleosis occurs in at least 50% of adolescents and young adults with primary infection. We present a case of AAC that occurred during the course of primary EBV infection in a 4-year-old female.
Case outline: A 4-year-old girl was admitted to hospital with a 9 days history of abdominal pain, vomiting and poor food and fluid intake. Two days prior to admission she had visited her pediatrician and physical examination revealed bilaterally enlarged tonsils covered with white exudates. Throat swab culture was negative and infectious mononucleosis was suspected. Serum serological studies were indicative of primary EBV infection (IgM and IgG antibodies against virus capsid antigen were both positive).  Upon admission she did not appear ill and apart from enlarged tonsils covered with exudates and hepatomegaly the rest of physical examination was unremarkable. Abdominal ultrasound showed hepatomegaly and splenomegaly with diffuse edematous wall thickening (9 mm thickness) of gallbladder, partly filled with anechogenic content with no visable gallstones.  AAC during the course of primary EBV infection was diagnosed and the patient was treated conservatively with parenteral cefotaxime and peroral ursodeoxycholic acid. Abdominal ultrasound performed on day 10 of hospital stay revealed normal size gallbladder without wall thickening. Patient was discharged asymptomatic on hospital day number fourteen.
Conclusion: Acute acalculous cholecystitis is rare in pediatric population but pediatrician should be aware of possible gallbladder involvement in the presence of cholestatic hepatitis caused by EBV infection to avoid unnecessary invasive surgical treatment.
References
Rostgaard K, Balfour HH Jr, Jarrett R, Erikstrup C, Pedersen O, Ullum H, et al. Primary Epstein-Barr virus infection with and without infectious mononucleosis. PLoS One. 2019 Dec 17;14(12):e0226436.
Behrman RE, Kliegman RM, Jenson HB, eds. Nelson Textbook of Pediatrics. 17th ed. Philadelphia: Saunders; 2004. pp 1062-6.
Jenson HB. Acute complications of Epstein Barr virus infectious mononucleosis. Curr Opin Pediatr. 2000;12:26 3–68.
O'Donovan N, Fitzgerald E. Gallbladder wall thickening in infectious mononucleosis: an ominous sign. Postgrad Med J. 1996;72:299–300.
Lagona E, Sharifi F, Voutsioti A, et al. Epstein-Barr virus infectious mononucleosis associated with acute acalculous cholecystitis. Infection. 2007;35:118–19.
Yamada K, Yamada H. Gallbladder wall thickening in mononucleosis syndromes. J Clin Ultrasound. 2001;29:322–25.
Rein J, Watkins B. Acalculous Cholecystitis in a Seven-Year-Old Girl With Epstein-Barr Virus Infection. Cureus.2021;13(11):e19774.
Tsakayannis DE, Kozakewich HP, Lillehei CW. Acalculous cholecystitis in children. J Pediatr Surg. 1996;31:127–130.
Huang SC, Yang YJ. Septic shock and hypofibrinogenemia predict a fatal outcome in childhood acute acalculous cholecystitis. J Pediatr Gastroenterol Nutr. 2011;53:548–552.
Suchy FJ. Disease of the gallbladder. In: Kliegman RM, editor. Nelson textbook of pediatrics. 19th ed. Philadelphia: Elsevier; 2011. pp. 1415–1416.
Yi DY, Kim JY, Yang HR: Ultrasonographic gallbladder abnormality of primary Epstein-Barr virus infection in children and its influence on clinical outcome. Medicine. 2015, 94:e1120.
Mirvis SE, Vainright JR, Nelson AW, Johnston GS, Shorr R, Rodriguez A, et al. The diagnosis of acute acalculous cholecystitis: a comparison of sonography, scintigraphy, and CT. AJR Am J Roentgenol. 1986;147:1171–1175.
Imhof M, Raunest J, Ohmann C, Röher HD. Acute acalculous cholecystitis complicating trauma: a prospective sonographic study. World J Surg. 1992;16:1160–1165.
Imamogu M, Sarihan H, Sari A, Ahmetoğlu A. Acute acalculous cholecystitis in children: Diagnosis and treatment. J Pediatr Surg. 2002;37:36–39.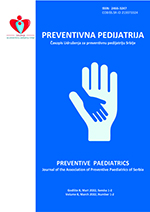 Downloads