CIGARETTE AND ALCOHOL USE IN THE POPULATION OF PRIMARY SCHOOL STUDENTS IN THE MUNICIPALITY OF DOLJEVAC
Keywords:
Cigarette use, alcohol use, adolescence, prevention
Abstract
Introduction:Tobacco and alcohol abuse in the twentieth century has become epidemic in both adults and children in early adolescence.
Aim: To examine the incidence of tobacco and alcohol consumption in eighth grade elementary school students in the territory of Doljevac Municipality.
Material and methods: The examination was of an anonymous nature. Two surveys were conducted from October to December 2020. The first one focused on the frequency of cigarette use and the second on the frequency of alcohol use in a sample of eighth-grade elementary school pupils, both sexes, total of 105 subjects. A tool called the Youth Tobacco Survey (YTS) 2006 Questionnaire, Centers for Disease Control and Prevention (CDC, 2006) was used to collect the data, with a specially designed questionnaire. The data collected were analyzed and presented with descriptive statistics.
Results: One-quarter of the subjects 25% had tried cigarettes, including daily smoking for 30 days without interruption, 2.85% of the subjects reported. Currently, 1% of students surveyed use cigarettes. Almost 73.33% of the respondents have tried alcohol, of which more than a third drink 3 or more alcoholic beverages in a row 22%, while the experience of drinking reported 15.5% of the children examined.
Conclusion: Based on the results obtained,  it can be concluded that it is necessary to implement prevention programs to reduce tobacco and alcohol use in adolescents. Counselling Services for Youth and Paediatric Departments of Health Care Centres play a very important role in promoting healthy lifestyles in the form of children's health education.
References
Dimitrijević I, Brković D, Dimčić-Tasić G, Anđelić S, Damnjanović D, Nikolić D. Nivo znanja, stavovi i upotreba supstanci među učenicima osnovnih i srednjih škola u Beogradu 2010/2011-Pilot studija. Sanamed 2011; 6(1): 13-17.
Marić M. Učestalost upotrebe psihoaktivnih sredstava u adolescentskom uzrastu. Sociološki pregled. 2012; (1), 57–76.
Rakić DB, Rakić B, Milošević Z, Nedeljković I. The prevalence of substance use among adolescents and its correlation with social and demographic factors. Vojnosanitetski pregled. 2014, 71(5), 467–473. doi: 10.2298/VSP1405467R.
Vučković N. Prevencija narkomanije i ostalih bolesti zavisnosti (opštinski model). XVIII savetovanje terapeuta bolesti zavisnosti. Sijarinska Banja: 2002.
Marić M. Problematično ponašanje dece i adolescenata – pojam, učestalost, poreklo i prevencija. Norma. 2011; (2), 175- 184.
Jugović A. Zloupotreba alkohola u omladinskoj populaciji Srbije. Socijalna misao. 2005; 12 (2-3): 67-92.
WHO 2014. Global status report on alcohol and health. Geneva, Switzerland: WHO Press, World Health Organization; 2014.
Chassin L, Presson CC, Montello D, Sherman SJ and McGrew J. Changes in Peer and Parent Influence During Adolescence: Longitudinal Versus Cross-Sectional Perspectives on Smoking Initiation. Developmental Psychology. 1986; 22 (3): 327-334. doi: 10.1037/0012-1649.22.3.327
Mugoša B, Đurišić T, Golubović Lj. Evropsko istraţivanje o upotrebi duvana, alkohola i droga među učenicima, izvještaj za Crnu Goru. Podgorica: Institut za javno zdravlje; 2008.
Ćirić-Janković S, Kisin Đ, Jović S, Kilibarda B, Bjeloglav D. Evropsko istraţivanje o upotrebi duvana, alkohola i droga među učenicima u Srbiji, izveštaj za Srbiju. Beograd: Institut za javno zdravlje ,, Dr Milan Jovanović Batut", Ministarstvo zdravlje Republike Srbije; 2008.
Šiljak S, Stoisavljević D, Niškanović J. Evropsko istraživanje o upotrebi duvana, alkohola i droga među srednjoškolcima, izveštaj za Republiku Srpsku. Banja Luka: Institut za zaštitu zdravlja Republike Srpske, Ministarstvo zdravlja i socijalne zaštite Republike Srpske; 2008.
Mitrović D, Zdravković R, Đorđević J, Ćirić D, Miletić E, Bogoslović M, Zlatković A.Zloupotreba alkohola, duvana i droga kod mladih u Knjaževcu.Timočki medicinski glasnik. 37(2012) br.3 p.154-159.
Hibell B, Guttormsson U, Ahlström S, Balakireva O, Bjarnason T, Kokkevi A. et al. The 2011 ESPAD Report, Substance Use Among Students in 36 European Countries. Stockholm, Sweden: The Swedish Council for Information on Alcohol and Other Drugs; 2012
Milošević J, Todorović J. Upotreba cigareta i alkohola u populaciji učenika osnovne škole. Prev Ped, 2016; 2(1-2):50 – 53.
WHO 2015.Media centre - Tobacco. Dostupno 9. marta 2016. godine na http://www.who.int/mediacentre/factsheets/fs339/en/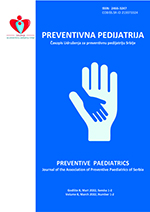 Downloads
Section
Original Articles