HOLT-ORAM SYNDROME-SIGNIFICANCE OF EARLY DIAGNOSIS
Abstract
Introduction: Holt-Oram syndrome (HOS) is a genetic syndrome. It is inherited autosomally dominantly. The disease is caused by a mutation in the TBX5 gene (T-box) on the long arm of chromosome 12 (12q24.1), important for the development of the heart and upper extremities. The incidence is 1:100,000 newborns and is a rare disease. It is characterized by malformations of the upper extremities-hand dysplasia (lack of the thumb, triphalangeal thumb, inability to position the thumb) and a defect of the radius or ulna, exceptionally with phocomelia. The expression of certain symptoms in the spectrum of the clinical picture of Holt-Oram syndrome is more pronounced if the mother is a carrier of the mutation. Heart defects are described along with Holt-Oram syndrome. The most common heart defect is atrial septal defect (ASD).
Case report: The paper presents a nine year-old boy who was admitted to the Children 's Department in the Zajecar  for examination of small stature. On clinical examination, in addition to small growth, a characteristic phenotype is observed. He has a deformity of the thumb of his right hand and hypoplasia of the radius. Systolic murmur is registered on the heart by auscultation. The diagnosis of Holt-Oram syndrome has been confirmed. Ultrasound examination of the heart revealed atrial septal defect (ASD). The parents refuse the proposed heart surgery.
Conclusion: The role of the neonatologist is to suspect a possible heart defect in the case of anomalies of the thumb or upper extremities and to refer parents to further multidisciplinary testing, which includes molecular genetic testing. Timely professional assistance to parents already in the maternity hospital, with reference to quality multidisciplinary examination and monitoring, is the basis of modern care for newborns born with a rare disease.
References
Mary Holt and Samuel Oram. Familial heart disease with skeletal malformations. Br Heart J. 1960 Apr;22(2):236-42. PMID: 14402857, PMCID: PMC1017650
Charles A. Goldfarb, Lindley B. Wall. HOLT-ORAM SY. Journal of Hand Surgery, 2014 , Vol 39, Issue 8, P1646-1648.
G Virdis, M Dessole, S Dessole, G Ambrosini, E Cosmi, P L Cherchil, G Capobianco. Holt Oram syndrome: a case report. Clin Exp Obstet Gynecol. 2016;43(1):137-9. PMID: 27048037
Binoy Shankar, MD, Euden Bhutia, MD, Dinesh Kumar, MD, Sunil Kishore, MD, and Shakti Pad Das, MD. Holt-Oram Syndrome: A Rare Variant. Iran J Med Sci. 2017 Jul; 42(4): 416–419. PMCID: PMC5523052, PMID: 28761211
Clémence Vanlerberghe, Anne-Sophie Jourdain, Jamal Ghoumid and all. Holt-Oram syndrome: clinical and molecular description of 78 patients with TBX5 variants. Eur J Hum Genet. 2019 Mar; 27(3): 360–368. PMCID: PMC6460573 PMID: 30552424
Guan-nan He, Xue-yan Wang, Min Kang, Xi-min Chen, Na Xi, Jing Zhao, and Xi Chen. Prenatal Diagnosis of Holt–Oram Syndrome With a Novel Mutation of TBX5 Gene: A Case Report. Front Pediatr. 2021; 9: 737633. https://doi.org/10.3389/fped.2021.737633
Sarah Obican, Lindsay Maggio. Holt-Oram Syndrome. Obstetric Imaging: Fetal Diagnosis and Care (Second Edition), 2018, Pages 557-559 DOI:10.1016/B978-0-323-44548-1.00132-7 8. Camille Cenni, Stephanie Andres, Maja Hempel and all. TBX3 and TBX5 duplication: A family with an atypical overlapping Holt-Oram/ulnar-mammary syndrome phenotype. Eur J Med Genet. 2021 Jul;64(7):104213.PMID: 33930582, DOI: 10.1016/j.ejmg.2021.104213
Xu Qin, Wang Wei, and Gong Fangqi. Horseshoe Lung Associated With Holt-Oram Syndrome. Iran J Pediatr. 2015 Apr; 25(2). PMCID: PMC4505999, PMID: 26195995
Ayokunle Osonuga, Jeffrey K. Arhin, Gloria C. Okoye, and Adebayo Da'Costa. Possible Holt-Oram Syndrome: Missed Prenatal Diagnosis and Sub-Optimal Management in a Poor-Resourced Hospital. Balkan Medical Journal (Vol. 36, Issue 3), May 2019. PMCID: PMC6528524, PMID: 30873826
Won Kyoung Jhang, Beom Hee Lee, Gu-Hwan Kim and all. Clinical and molecular characterisation of Holt-Oram syndrome focusing on cardiac manifestations. Cardiol Young. 2015 Aug; 25(6):1093-8. PMID: 25216260, DOI: 10.1017/S1047951114001656
Marilena Renata Spiridon, Antoniu Octavian Petris and all. Holt-Oram Syndrome With Multiple Cardiac Abnormalities. Cardiol Res. 2018 Oct; 9(5): 324–329.PMCID: PMC6188042, PMID: 30344832
Marilena Renata Spiridon 1, Antoniu Octavian Petris 1 2, Eusebiu Vlad Gorduza and all. Holt-Oram Syndrome With Multiple Cardiac Abnormalities. Cardiol Res. 2018 Oct;9(5):324-329. PMID: 30344832, PMCID: PMC6188042, DOI: 10.14740/cr767w
Paweł Tyczyński, Ilona Michałowska, Barbara Miłosz-Wieczorek, Piotr Hoffman, Adam Witkowski. Holt-Oram syndrome, bicuspid aortic valve, and patent ductus arteriosus. Kardiol Pol 2021;79(12):1395-1396. PMID: 34599494, DOI: 10.33963/KP.a2021.0118
Paweł Tyczyński, Ilona Michałowska, Barbara Miłosz-Wieczorek, Piotr Hoffman, Adam Witkowski. Holt-Oram syndrome, bicuspid aortic valve, and patent ductus arteriosus. Polish Heart Journal, Vol 79, No 12 (2021).PMID: 34599494, DOI: 10.33963/KP.a2021.0118
Igor Stefanović, Aleksa Milić , Kristina Matejić , Ida Jovanović. Successful surgical closure of an aortopulmonary window associated with Holt-Oram syndrome in adulthood. Vojnosanit Pregl 2018; 75(7): 730–733 https://doi.org/10.2298/VSP160926361S
F. D. Tucker, J. K. Morris and all. EUROCAT: an update on its functions and activities. J Community Genet. 2018 Oct; 9(4): 407–410.PMCID: PMC6167264, PMID: 29736796
Edin Međedović, Amer Iglica, Nedim Begić, Mahmutbegović Emir. Holt–Oram Syndrome: The Importance of Prenatal Detection. Donald School Journal of Ultrasound in Obstetrics and Gynecology. May 2020. 14(2):172-174.DOI:10.5005/jp-journals-10009-1644
Ingeborg Barisic, Ljubica Boban, Ruth Greenlees and all. Holt Oram syndrome: a registry-based study in Europe. Orphanet J Rare Dis. 2014; 9: 156. PMCID: PMC4245183, PMID: 25344219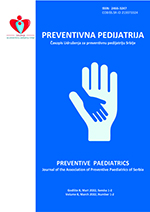 Downloads