PICKY AND FUSSY EATING IN CHILDREN
Abstract
Picky and fussy eating in children (choosy and faddy food choices) is classified in the group of eating and behavioral disorders when a child reluctantly eats already known specific food and/or refuses new foods (food neophobia), as well as a strong tendency to specific food. The consequences can be nutritional deficiencies that affect the health of children, but also the development of obesity. Parents of children who are picky about food state that their children eat monotonous food, that they demand food preparation in a specific way, and there is a prevalence of anger attacks when they are deprived of the food they prefer.
Avoidant restrictive food intake disorder (ARFID) is a newly classified disorder in the "Feeding and Eating Disorders" section of the Diagnostic and Statistical Manual of Mental Disorders.  ARFID may be diagnosed only by greater weight loss among some children or by great concern from their parents.
The behavior of children who are picky about food is related to some psychological problems of children, such as isolation, somatic disorders, anxiety and depression, a higher level of aggression, so the question arises as to what is the cause and what is the consequence. One should be careful with picky children, although this behavior decreases with age and does not cause significant nutritional problems, however, the ARFID study warns of individual extreme cases Prevention of the behavior of picky children is done by offering a variety of foods in early childhood, emphasizing the social value and comfort of the family meal.
References
Bufler B. Menage picky and fussy eaters. EAP 2019 Congress and Master Course . Eur J Pediatr 2019; 178, 1613-1800. doi.org/101007/s00431-019-03466-w
Skinner JD, Carruth BR, Bounds W, Ziegler PJ, Children's Food Preferences. A Longitudinal Analysis; Journal of the American Dietetic Association; 2002; 102 (11):1638-1647; doi.org/10.1016/S0002-8223(02)90349-4
Horst van der K, Deming DM, Lesniauskas R, Carr BT, Reidy KC. Picky eating: Associations with child eating characteristics and food intake. Appetite. 2016 Aug 1;103:286-293. doi: 10.1016/j.appet.2016.04.027. Epub 2016 Apr 24. PMID: 27120094.
Hazley D, Stack M, BreigeJW, McNulty A, Kearney JM. Food neophobia across the life course: Pooling data from five national cross-sectional surveys in Ireland; Appetite 171, 1 April 2022, 105941; doi.org/10.1016/j.appet.2022.105941
Dovey TM, Staples PA, Gibson EL, Halford JCG 2008. Food neophobia and 'picky/fussy' eating in children: A review. Appetite, 50(2-3), 181–193. doi.org/10.1016/j.appet.2007.09.009
Hafstad GS, Abebe DS, Torgersen L, von Soest T. Picky eating in preschool children: the predictive role of the child's temperament and mother's negative affectivity Eating Behaviors, 14 (2013), pp. 274-277.
Tharner A, Jansen PW, Kiefte-de Jong JC et al. Toward an operative diagnosis of fussy/picky eating: a latent profile approach in a population-based cohort. Int J Behav Nutr Phys Act 11, 14 (2014). https://doi.org/10.1186/1479-5868-11-14
McCormick V, Markowitz G. Picky Eater or feeding disorder? Strategies for determining the difference Adv. Healthc. Netw. for NPs & PAs, 4 (2013), pp. 18-22 PMID: 23516746
Zimmerman J, Fisher M. Avoidant/Restrictive Food Intake Disorder (ARFID) Current problems in pediatric and adolescent health care. 2017;47:95–103. PMID: 28532967 doi: 10.1016/j.cppeds.2017.02.005
Seetharaman S, Fields EL, Avoidant and Restrictive Food Intake Disorder; Pediatr Rev. 2020 Dec; 41(12): 613–622. doi: 10.1542/pir.2019-0133. PMCID: PMC8185640 doi: 10.1542/pir.2019-0133
Taylor C, Emmett P. Picky eating in children: Causes and consequences. Proceedings of the Nutrition Society; 2019. 78(2), 161-169. doi:10.1017/S0029665118002586
Carruth BR, Ziegler PJ, Gordon A, Barr SI. Prevalence of picky eaters among infants and toddlers and their caregivers' decisions about offering a new food, Journal of American Dietetic Association; 2004. 104, pp. s57-64 doi: 10.1016/j.jada.2003.10.024.
Xue Y, Lee E, Ning K, Zheng Y, Ma D, Gao H, et al. Prevalence of picky eating behaviour in Chinese school-age children and associations with anthropometric parameters and intelligence quotient. A cross-sectional study. 2015. Appetite, 91, pp. 248-255 PMID: 25934087 doi: 10.1016/j.appet.2015.04.065.
Mascola AJ, Bryson SW, Stewart W A; Eat Behav; Picky eating during childhood: A longitudinal study to age 11-years ; Eat Behav. 2010 Dec; 11(4): 253–257. doi: 10.1016/j.eatbeh.2010.05.006
Moroshko I, Brennan L. Maternal controlling feeding behaviours and child eating in preschool-aged childrenNutrition & Dietetics, 70 (2013), pp. 49-53 doi.org/10.1111/j.1747_0080.2012.01631.x
Gregory JE, Paxton SJ, Brozovic AM. Maternal feeding practices, child eating behaviour and body mass index in preschool-aged children: a prospective analysis. Int J Behav Nutr Phys Act. 2010 Jun 28;7:55. doi: 10.1186/1479-5868-7-55. PMID: 20579397; PMCID: PMC2907299.
Knaapila A, Tuorila H, Silventoinen K, Keskitalo K, Kallela M, Wessman M, Peltonen L, Cherkas LF, Spector TD, Perola M. Food neophobia shows heritable variation in humans. PhysiolBehav. 2007 Aug 15;91(5):573-8. doi: 10.1016/j.physbeh.2007.03.019. Epub 2007
Galloway AT, Fiorito L, Lee Y, Birch LL. Parental pressure, dietary patterns, and weight status among girls who are "picky eaters". J Am Diet Assoc. 2005 Apr;105(4):541-8. doi: 10.1016/j.jada.2005.01.029. PMID: 15800554; PMCID: PMC2530930.
Harris HA, Fildes A, Mallan KM, Llewellyn CH; Maternal feeding practices and fussy eating in toddlerhood: a discordant twin analysis; International Journal of Behavioral Nutrition and Physical Activity.2016. volume 13, Article number: 81 PMID: 27412445 doi: 10.1186/s12966-016-0408-4.
de Barse LM, Cardona CS, Jansen PW, Jaddoe VVW, Verhulst FC, Franco OH, Tiemeier H, Tharner A. Are parents' anxiety and depression related to child fussy eating? Arch Dis Child. 2016 Jun;101(6):533-538. doi: 10.1136/archdischild-2015-309101. PMID: 26916538.
Wadhera D, Capaldi-Phillips ED. A review of visual cues associated with food on food acceptance and consumption. Eat Behav. 2014 Jan;15(1):132-43. doi: 10.1016/j.eatbeh.2013.11.003. Epub 2013 Nov 28. PMID: 24411766.
Jacobi C, Schmitz G, Agras WS. Is picky eating an eating disorder? Int J Eat Disord. 2008 Nov;41(7):626-34. PMID: 18454484. doi: 10.1002/eat.20545.
Cardona Cano S, Hoek HW, van Hoeken D, de Barse LM, Jaddoe VW, Verhulst FC, Tiemeier H. Behavioral outcomes of picky eating in childhood: a prospective study in the general population. J Child Psychol Psychiatry. 2016 Nov;57(11):1239-1246. doi: 10.1111/jcpp.12530. Epub 2016 Feb 19. PMID: 26892643.
Dubois L, Farmer A, Girard M, Peterson K, Tatone-Tokuda F. Problem eating behaviors related to social factors and body weight in preschool children: A longitudinal study. Int J Behav Nutr Phys Act. 2007 Apr 4;4:9. doi: 10.1186/1479-5868-4-9. PMID: 17408478; PMCID: PMC1855064.
Volger S, Sheng X, Tong LM, Zhao D, Fan T, Zhang F, Ge J, Ho WM, Hays NP, Yao MP. Nutrient intake and dietary patterns in children 2.5-5 years of age with picky eating behaviours and low weight-for-height. Asia Pac J Clin Nutr. 2017 Jan;26(1):104-109. doi: 10.6133/apjcn.102015.02. PMID: 28049269.
Chao HC. Association of Picky Eating with Growth, Nutritional Status, Development, Physical Activity, and Health in Preschool Children. Front Pediatr. 2018 Feb 12;6:22. doi: 10.3389/fped.2018.00022. PMID: 29484290; PMCID: PMC5816267.
Leung AKC, Marchand V, Sauve RS; Canadian Paediatric Society; The 'picky eater': The toddler or preschooler who does not eat; Paediatr Child Health. 2020. 17(8): 455-57; available https://cps.ca/documents/position/toddler-preschooler-who-does-not-eat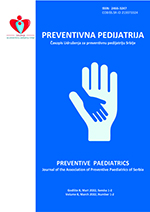 Downloads